Don't you think cutting sheet metal material is a hassle? Our Double Headed Sheet Metal Nibbler With Power Drill Attachment is a perfect metal nibbler attachment for your drill which makes you cutting the job more comfortable.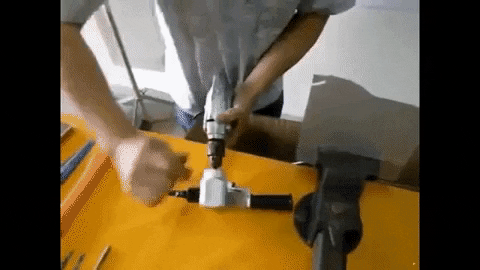 It requires quite a lot of strength for cutting the sheet metal materials. But now, cutting sheets will never be the same with the Double Headed Sheet Metal Nibbler With Power Drill Attachment. It's light, compact and sleek. You can use this with an electric drill or air drill and transformed it into a cutting tool.
Additionally, it has 360 degrees adjustable head which have the double cutting capability. It is extraordinarily capable of cutting every kind of thin metal. A perfect and safe metal nibbler cutting tool for car repairing, maintenance, metal sheet productions and more.
Gutters, roof sections, complex shapes or stencils can be cut with precision as it can move anywhere within 360 degrees.
Features:
HIGHLY EFFICIENT PERFORMANCE: The maximum cutting capacities of the tool are steel plate 1.8mm, stainless steel 1.0mm, copper/aluminum plate 2mm, plastic/fibreboard 2mm; minimum cutting radius: 12mm. Ergonomically designed handle for comfortable grip makes the metal cutting job easier and faster. 
INCREDIBLY VERSATILE TOOL: It has 360 degrees adjustable double head for double cutting capability. It can cut in any direction and from any desired angle. It can be attached to any standard drill and transformed it into a sheet metal nibbler cutting tool.
PRECISE CUT: It has a splendid cutting effect without leaving any sharp edges and burrs. Capable of cutting in straight and curvy patterns effortlessly. Suitable for car repairing, maintenance, metal sheet productions and more.
MULTI-PURPOSE TOOL: It has versatile usage. It can be applied on sheet metal, pipes, powder-coated material, stainless steel, copper, aluminum, etc. It can also cut soft materials such as denim, leather, paper, card, etc. 
DURABLE AND SAFE: Extremely easy and durable to use, safe to operate. Labor-saving, don't need to use much strength while cutting. No distortion, No sparks.
Products Specifications:
Cutting Thickness - Cuts material up to 2mm thick.
Cutting Shapes - Cuts corrugated, round, and complex shapes to a 12mm radius.
12 GAUGE - Copper, brass, aluminum.
14 GAUGE - Mild steel.
18 GAUGE - Stainless steel.
Other Material - Fiberglass, plexiglass, wood, vinyl, laminate, plastic, gutters, tiles, flooring, frames, studs, pipes and many other materials.
Attaches to any standard drill transforming it into a safe, easy to use, sheet metal cutting tool.
Package Contents:
1x Wrench

1x Nibbler Cutter
OUR GUARANTEE
• Free Shipping Worldwide: OVER $ 69.00 dollars.
• Orders will be processed within 2 business days of ordering and shipped the next day after the processing day. Please note that we don't ship on weekends.